On September 29th the Biomechanical Engineering Lab received the fellow members from other divisions of the UPC Research Centre for Biomedical Engineering, with the aim of showing them the work done at the lab. The event started with Josep Maria Font introducing the BIOMEC group, along with the past and current projects developed by the team.
He was then followed by Rosa Pàmies, who gave a tutorial about dynamic analysis and simulation of human movement. She gave an overall view on inverse and forward dynamic analyses of human walking using multibody dynamics techniques, and also explained the sensors used in the biomechanics lab to perform dynamic analyses of human movements.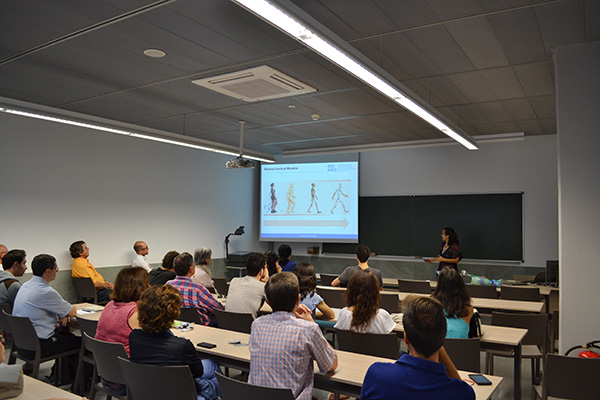 To finish the presentation, Daniel Clos presented the mechanical design of an active knee-ankle-foot orthosis for spinal cord injured subjects that was designed in the lab, and is being now tested in the frame of a national project in collaboration with the University of La Coruña and the University of Extremadura.
Networking coffee-break and biomechanics contest
After the presentation, the audience went to the BIOMEC Lab for some coffee and appetizers and to play two games, which had been prepared by the Lab members. The first one consisted in walking as straight as possible (kinematic analysis). With a sensor on the person's head, the objective was to achieve the minimum vertical movement. The second one consisted in achieving a vertical force of 50 N by using two crutches on the pressure plates. The winners were given a BIOMEC award.